Construction Begins
The monumental task was launched in January, 1898, with Bishop Wigger turning the first spadeful of soil. Construction of the foundations, piers and basement walls soon began, and work progressed so rapidly that Bishop Wigger set June 11, 1899, as the date for the laying of the cornerstone. More than fifty thousand people lined the streets to observe the parade to the Cathedral site, where an excess of one hundred thousand had gathered to watch the cornerstone laying ceremony.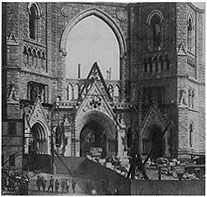 Construction of the facade

O'Rourke immediately directed his attention to the erection of the walls and towers, selecting Vermont Rockport granite as the exterior stone. Joining O'Rourke in the fall of 1899 was the Newark firm of E.M Waldron and Company, which would handle the responsibilities of general contractor. By April 1902, the walls stood fifty feet at the nave and ambulatory locations, with the first four tiers of the front towers under construction.

Bishop Wigger did not live to see this stage completed, however, having died on January 5, 1901. His successor, Bishop John O'Connor, instructed O'Rourke to continue on but to cut cost wherever possible so as not to exceed the estimated price tag of one million dollars.