Conflicts Halt Construction
Next on the agenda would be the erection of the twenty-four nave and ambulatory columns, upon which the weight of the clerestory and vaulting would rest. During the same period, the Waldron company was authorized to extend the front towers from fifty to one hundred eighty feet.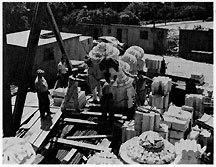 Boss stones awaiting placement in vaulting

But this period, beginning in 1902, was marked by a series of feuds between O'Rourke and Waldon, which led eventually to O'Rourke's removal as chief architect in 1910. Charges and countercharges relative to alleged contract violations were leveled by both sides and this necessitated several reconciliation sessions with high-ranking diocesan officials. By the end of 1908, the O'Rourke-Waldron feud had grown to such magnitude that work came to a grinding halt.

The principal element in the cessation of activities centered on a charge leveled by Waldron at O'Rourke relative to the stability of the nave and ambulatory columns. As the erection of the interior columns was taking place, Waldron observed a dangerous shift in position as the weight of stone resting upon the granite shafts increased. Waldron reported his observations to Bishop O'Connor, which led the Diocese to enlist the services of Isaac E. Ditmars, O'Rourke's ultimate successor, and Fred Metcalf to study the problem. - O'Rourke angrily denounced the findings and twice refused to resign when asked to do so by the Vicar General, Monsignor John Sheppard. The situation went from bad to worse when O'Rourke refused to work with Ditmars, who had been retained by Monsignor Sheppard as advisory architect. Attempts to resolve differences were for naught, and Bishop O'Connor was forced to dismiss O'Rourke on February 24, 1910, following publication of an article in the Newark Evening News defending O'Rourke and his workmanship and attaching the findings of the Ditmars-Metcalf report.