Completion of Exterior
Construction moved along steadily, and by 1918, the greater part of the project had been completed so as to allow erection of the steel supported slate roof and the one hundred thirty-one foot copper "fleche" that tops the intersection of the nave and transept. This part of the work was completed in November, 1919.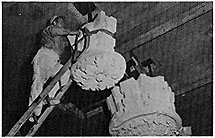 Installation of boss stones in the crossing

With the exterior nearing completion, Ditmars directed that the granite tympanum canopies and medallions be erected. The actual carving of the medallions' scriptural scenes and bishops' portraits took place on the Cathedral property between April, 1922 and November, 1924 under the direction of Rochette and Parzini of New York. Inside, work commenced on the insulation and sealing of the terra-cotta window tracery.

By July of 1924, plate glass had been installed in all the windows, thus for the first time insulating the Cathedral from the weather.