Cathedral Opens for Worship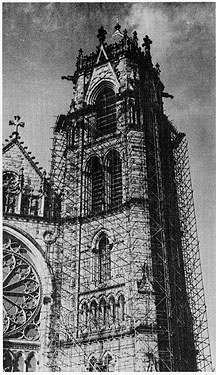 Scaffolding surrounds the Gesu Tower

The arrival of Bishop O'Connor's successor signaled the dawning of a new era for the finished Cathedral. While it was not until 1950 that work resumed, the new Bishop, Thomas Joseph Walsh (designated Ordinary on March 2, 1928), felt the time was right to use the building, even though unfinished, for public worship. And so plans were announced for his installation in the Cathedral on May l, 1928.

The Pontifical Mass that followed was celebrated by the Most Reverend Joseph H. Conroy of Ogdensburg, New York. A crowd of nearly four thousand filled the Cathedral, splendidly decorated despite its unfinished condition.

Similar crowds jammed the great nave on nine other occasions during the next twenty-four years. Three of those events were in honor of Newark's Ordinary; on the occasion of his elevation to the rank of Archbishop on April 27, 1938; his silver jubilee as a Bishop on July 29, 1943; and his fiftieth anniversary of priestly ordination on May 1, 1950. During that same twenty-four year period, Archbishop Walsh consecrated six bishops. Of this group, two played a crucial role in the Cathedral's completion. The most Reverend Thomas A. Boland, consecrated Auxiliary Bishop of Newark on July 25, 1940, succeeded Archbishop Walsh in 1953 and saw the effort through to completion. The Most Reverend James A. McNulty, consecrated Auxiliary Bishop of Newark on October 7, 1947, functioned as a liaison between the architect and Archbishop Walsh and who, at the Archbishop's death in 1952, directed that work on the Cathedral continue.