Drive to Complete the Cathedral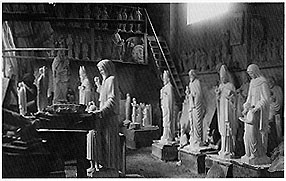 Statuary for the chapels in the Raggi Studio, Rome

In 1950, Archbishop Walsh used the occasion of his fiftieth anniversary of ordination to announce a massive drive to complete the Cathedral in time for the Diocesan centenary in 1953. A Cathedral Builders' Association was formed to raise five million dollars to finance the project. The architectural firm of Paul C. Reilly of New York was engaged, with heavy construction to be handled by the George A. Fuller Company, and interior ornamentation by Professor Gonippo Raggi and Sons of Orange. For Mr. Reilly, the 1950 appointment marked a return to the Cathedral, where he had worked as a partner with Ditmars during the earlier stages of construction. For Professor Raggi the Cathedral commission was the culmination of a career totally devoted to ecclesiastical art -- a career that found its expression in several church buildings in the metropolitan area. His association with the Cathedral project found him not only at the building site, but also in Rome, where he maintained a shop and supervised several craftsmen working on his designs for the marble altars and statuary.

Work on the Cathedral's interior was quite advanced when Archbishop Walsh passed away on June 6, 1952. With the nave and transept obstructed with scaffolding, it became necessary to hold the Archbishop's funeral at St. Patrick's Cathedral on Washington Street. Following the Mass, his body was moved to the Cathedral crypt and laid to rest next to Bishop O'Connor.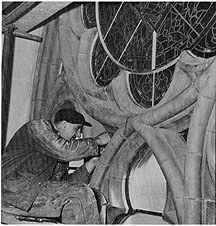 Caption here

Archbishop Boland came on the scene in 1953 and continued giving an Archbishop's enthusiastic support to the Cathedral effort. Hence, Reilly and Raggi continued on, working together to create the Cathedral's renowned interior. During this same period, Reilly also erected the Episcopal residence on Ridge Street. It was at this time that the sanctuary floor, previously on two levels, was changed to a single level stage-like surface. Marble floors were laid throughout the church and heating and ventilating systems were installed for the first time. The interior was beautifully appointed with Munich stained glass, hand carved white oak screens, massive carved limestone screens, and furnishings of Italian marble.