Dedication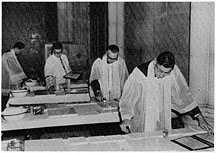 Priests bless altar stones in the Cathedral

On October 19, 1954, the dream that had been envisioned by Bishop Bayley became a reality. Archbishop Boland dedicated Newark's mighty Cathedral in a ceremony in which he also received the pallium -- the symbol of archepiscopal dignity -- from Archbishop Amleto Cicognani, Apostolic Delegate to the United States. Monsignor Joseph A. Doyle, who spent his entire priestly life in the Cathedral parish, was appointed first rector.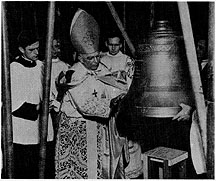 Consecration of bells by Archbishop Boland

Over the long years of Archbishop Boland's episcopate, the Cathedral emerged as the center of faith and devotion for the people of the Archdiocese. During his tenure, six bishops were raised to the episcopal rank, countless numbers of priests ordained at his hands, and thousands of laity, both young and old, cited for their contributions to their Church and society. On December 2 and 8, 1972, thousands came to the Cathedral to celebrate the archbishop's golden jubilee. On his retirement in 1974, they returned on June 28 of that year to hear him introduce his successor, the Most Reverend Peter L. Gerety, who had been transferred from the See of Portland, Maine, to the Archdiocese of Newark.