Opening Its Doors to the World
On coming to Newark as the diocese's seventh Bishop and third archbishop, Archbishop Gerety became the first Ordinary to live in the Episcopal residence attached to the Cathedral. Under his leadership, the Cathedral has, as Bishop McQuaid predicted, opened its doors to the world. This statement can best be exemplified in a precedent-shattering ceremony in which John Shelby Spong was consecrated in the Cathedral sanctuary Coadjutor Bishop for the Episcopal Diocese of Newark. This historic event took place, at Archbishop Gerety's invitation, on June 12, 1976. The Cathedral was filled to capacity, and thunderous applause echoed through the great nave as Archbishop Gerety embraced the consecrating prelate, the Right Reverend John Maury Allin, Presiding Bishop of the Protestant Episcopal Church in America.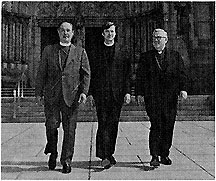 Archbishop Peter Gerety hosts Episcopal Bishops George Rath and Jon Spong

Later that same month, on June 25, Archbishop Gerety ordained two men to the episcopacy in a magnificent ceremony which was televised live throughout the state. Prior to the ordination rite at the Archbishop's direction, steps were taken to adapt the high altar for the modern liturgy, allowing Mass to be said facing the people, from the altar which, from its location in the sanctuary, commands the attention of those even in the farthest reaches of the Cathedral.